Where the Whitest and the Most Conservative parts of America overlap
--excepting the NorthWest sea corridor, required for a port on the Pacific--

April 1st, 2013
Since it was first revealed to me by Allah that
Whites Are The Most Foolish People On The Planet ©,
I have entertained myself in some of my free time by imagining a republic, after the downfall of the USA, just for them, where they can be by themselves mostly and not bother everyone else with their epic
Eloi
foolishness. Oh, and their racism. And their other isms and phobias and centrisms and privileges. And all that other not-very-nice stuff they do --like Western Civilization--and for which they must constantly and eternally (and fruitlessly) atone.
A lot of people get offended by this idea of a White republic. It's what they call "white nationalism" or "white supremacy" or "white separatism" or such. But they misunderstand. It's really a mercy and a kindness to everyone concerned. Who wants to live with their nasty in-laws? Isn't it better if these crackers move off to a place of their own? Think of it as a
reservation
for Caucasians of European Descent.
If you look for the parts of America where there are the fewest non-Whites, oops, I mean People of Color, plus those parts that vote for those stupid Republican rednecks, you get a chunk of land out West that nobody really wants anyway*. 87% White, 3% Indian, 3% Black, 7% Latino. Pure Red State Fly-over country. The only other people out there are the Indians, and they've got reservations of their own already.
Think about it. After all, given how horrible the Palefaces have been to everyone, why would anyone want them around, anyway? I think it's a great idea. Given the ease with which married couples divorce, why are we so resistant to mutually hostile and incompatible, yoked-together races divorcing? Life would be so much easier. As the Whites like to say,
a win-win.
A possible flag
A red cross on a white field is for the English flag, the cross of St George.
How much whiter can you get than that? Then a white cross overlaid on that to create red and white stripes, like in the real American flag, so they don't forget how foolish they are in leaving it behind. And then a the blue square from the US flag tipped over on its side to make a diamond, with the 13 stars of the Original States, to remind them of how adamantinely backward looking they are. And worst of all, the whole flag is bordered in the color of blood because they say they would defend their people and their borders with it. God, how barbaric and antique.
An even more barbaric and antique version, with the
Gadsen flag
's
Don't Tread On Me
rattlesnake.
PS. One wag suggested that this one below really ought to be their flag, that Whitey English St George thing, plus another blue cross with 13 stars.
When
Ex Cathedra
protested that it looked a lot like the flag of the Confederacy,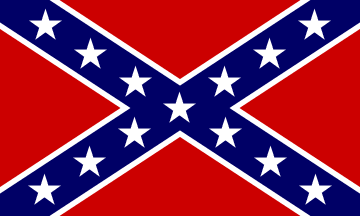 which would make people uncomfortable, he said that was the point. With that cross and those stars and bars, it would make clear that they are just a bunch of Jesus freak racists. Which is what they are. Which is why they deserve to be put out on their own reservation.
--
*Some places, like Upper New England --which has about 3 People of Color in it-- or the Upper Midwest, full to the brim with Whities, always vote deep Blue (they must be extra virtuous, loving People of Color that they hardly ever see!) so that wouldn't work. And that big swatch of land from south of the Great Lakes to north of the old Confederacy are also full of
redneck
conservative Caucasians, but that would be too much to ask. The Southern States are very conservative but hugely Black. Not promising in the long run.
--