Christmas is a time when, in a post-Christian culture like ours, you hear a lot of talk about "the simple message of Christmas." Everybody seems to know that. That goes along with nostrums like "the simple message of Jesus", which is usually boiled down to one of the most ambiguous words in the English language, "love." They make the complex religion flowing from Jesus into a sentimental ideology.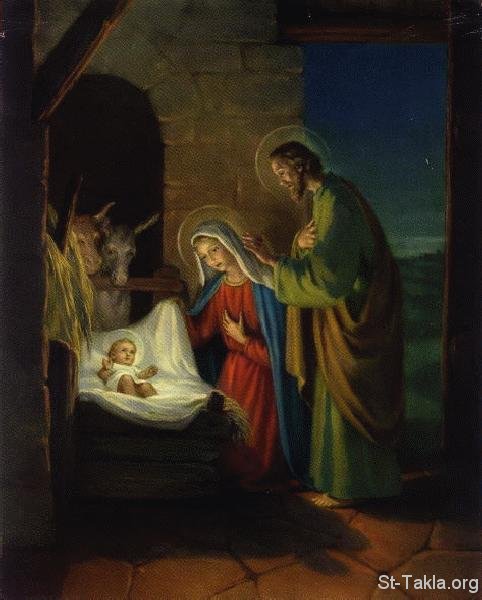 And IMHO, it's just wrong. If the message of Jesus --or of any of the great religious founders-- could be handed out on a 3x5 card --or a Jack Chick pamphlet, which is not much different-- what are all those pages of the Bible about? To say nothing of those thousands of years of discussion and debate, of contest and accomplishment? It gives me some pleasure when I read of yellow dog Baptists whose compulsive search for the pure and original Gospel leads them to...Greek Orthodoxy. Lean and spare is not the same as original.
Maybe it's the Protestantism which, both very pro and somewhat con, has shaped so much of American culture. A lot of Protestantism operated under the illusion of the simple beginning which then devolved into the complicated recent. The heart of religion was to return to the uncorrupted, and therefore simple, origin.
Take these two images. The one above, a common sentimental manger scene. The one below, the Savior returning with blood in his eye. Simple message of love?
One of the repetitive faults of many Christians is to play the game and draw too strong a line between the God of the Old Testament and the God of the New. The Old Testament God is famously moody, to put it mildly, while the God of the New, and his simple loving Son, is supposed to be, well simple and loving. I think that these two images, one which begins Advent (below) nd the other which is its culmination in Christmas, lead one to suspect that the Son is a lot more like his Father than many of his followers...and his post-believing right-thinking sentimentalists...would like to believe.
So much for simple.