Every religion has a name for transgressions of the sacred. In Christianity it is called sin.
During my most active Gnostic period, I came to see the divine-human relationship in Christianity as primarily political one: resolving the legal problem of a separation from and enmity between the human race and the Divine over rebellion and disobedience. Sin is failure to comply with the primary directives of an overlord by his underlings.
In this context, Christ --and his cross and resurrection-- becomes substitutionary atonement, the payment of a fine in blood and pain...And in the Augustinian and Anselmian West, this requires the blood and pain of a divine being to match the offense against an infinitely divine being...
How could the life and death of Christ be assimilated and uplifted (the Hegelian Aufhebung) if the real issue in the divine-human relationship were located elsewhere?
In line with my sense that we have become
The Most Foolish People On The Planet (c)
, the primary form of transgression against the sacred in a future Euro faith might very well be not sin but foolishness...folly.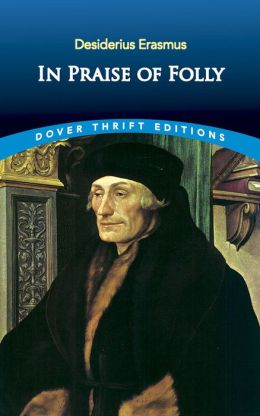 Our religion's task --well, one of them-- is to cure us of our folly more than, or even rather than, to cleanse us of our sins. Every religion must deal with both moral transgressions and ritual impurity, but not every religion places its center of gravity in the same field.
The work of Gnosis, the centerpiece of the Gnostic religion, is a new consciousness, a transformative awareness, that cures the three symptoms of our fallen state: exile, bondage and illusion. To transfer these ideas from a strictly Gnostic frame to a Euro faith frame, these would be alienation from one's true self and home, compulsive action and lack of freedom, and believing the lies of a regime founded on lies. These interacting defects leave us divided within and among ourselves, diminished both in possibility and in actualty, and deluded as to the truth of our situation. Together, they constitute
folly
, disconnection from reality and good sense.
(My praise of folly, with apologies to Desiderius Erasmus, is obviously not of folly as such, but of folly as the fundamental negative moral category of a new faith, displacing the centrality of sin, especially as Western Christianity has framed it, a theme only magnified and exacerbated since the Reformation.)